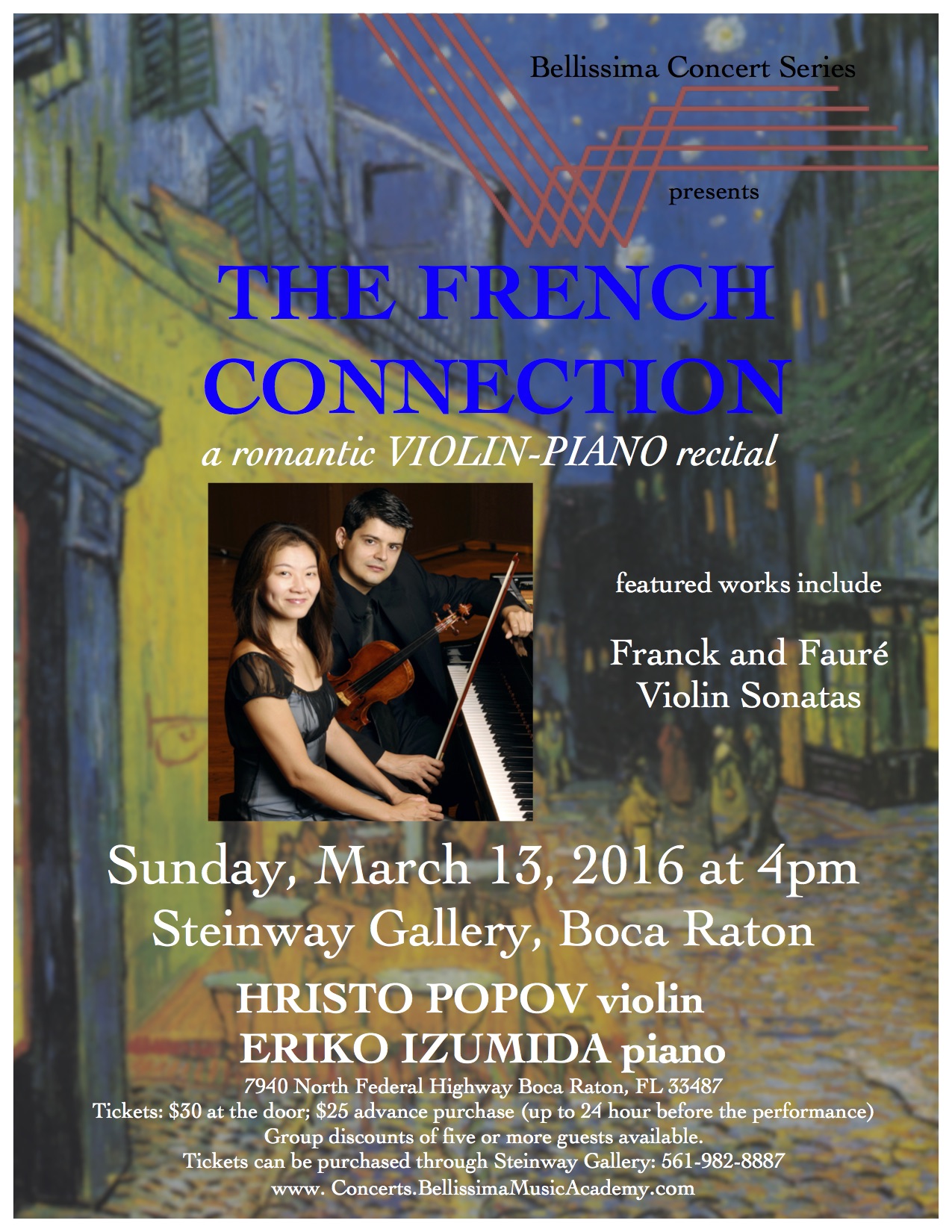 Music by the French masters
Cesar Franck, Gabriel Fauré and More

Sunday, March 13, 2016 at 4pm
Steinway Hall, Boca Raton
7940 North Federal Highway
Boca Raton, FL 33487

Tickets: $30 at the door; $25 advance purchase (up to 24 hour before the performance)
Contact us for group discounts of five or more guests.

Tickets can be purchased through Steinway Gallery: 561-982-8887, or through PayPal:

Described as "Virtuoso-
Violinist
extraordinaire" (Musical Horizons),
Hristo Popov
made his orchestra debut at the age of nine with Plovdiv State Philharmonic Orchestra and since then has performed as recitalist, chamber musician and concerto soloist at major performing arts venues in the U.S. and throughout Europe.

His Carnegie Hall debut was hailed by The Strad Magazine as "…alert and energetic." Hristo Popov was a prizewinner at the Kocian International Violin Competition, Silver Medalist at the California Young Artist Competition, winner of the Grand Prize at the International Institute of Music (Germany, USA), and first place winner at the American String Teachers Association Chamber Music Competition. He was selected as Artist of the Month at the Obama for Arts and Entertainment Organization in April of 2009.

Born in a family of musicians and educators of four generations, he began studying the violin at the age of four in his native country, Bulgaria. He completed most of his studies in the U.S, and holds bachelor's degree and Artist Diploma from Oberlin College Conservatory of Music and a doctorate from the University of Kentucky.

Hristo Popov performs music from the standard repertoire as well as significant works of the contemporary genre. He performs over twenty violin concerti and maintains a wide variety of recital programs. His performances have been documented on TV and radio stations in the U.S., Mexico, and Bulgaria and he has recorded albums for TC Recordings and Bravante Records. He has performed with members of the Juilliard Quartet, Miami Quartet, Miro Quartet, Berlin Philharmonic, New York Philharmonic and the Cleveland Orchestra, among others. He has worked with such conductors as Christofer Hogwood, Marin Alsop, Robert Spano, Leonard Slatkin and many others.

Dr. Popov has led residencies at many universities on Early 20th Century Eastern European Composers and the violin focusing on specifically on the composers Bela Bartok, George Enescu, and Pancho Vladigerov. The New York Concert Review praised his 2013 Carnegie Hall performance of these composers as "outstanding from start to finish," saying "Mr. Popov played with sensitivity, panache and fire, and his singing tone in the high register was unfailingly exceptional…Hristo Popov is a musician's musician."

He continues to receive rave reviews, as described recently by the Plain Dealer, "…the performance benefited from the elegant purity soloist Hristo Popov invested in every phrase. Popov traced the lyrical and vibrant lines (Mozart, Violin Concerto No. 5, Turkish) with unruffled assurance. He enabled the music to float where necessary and made easy work of the acrobatic demands."

Dr. Popov is the Founder and Violin Professor at Bellissima Music Academy in Florida and Artistic Director of the Palm Beach Music Festival. This summer he will be also be teaching and performing at the Interharmony International Music Festival in Germany.

Hristo Popov plays on a violin by Giovanni Battista Gabrielli made in Firenze in 1765, and on a contemporary violin by prominent American maker Gregg Alf based in Venezia.

================================

Pianist Eriko Izumida has been an active soloist, collaborative pianist, and chamber musician. She has performed extensively throughout the United States with numbers of artists including the Cleveland Orchestra members. In addition, she presents a number of recital programs for various community service venues.

Ms. Izumida has been teaching the piano privately since 2000, and now teaches at Bellissima Music Academy in Wellington, Florida. She was on the piano faculty of Baldwin Wallace Collage Preparatory/ Adult Education Department, Chagrin Valley Music Academy, Chagrin Valley Music Festival (formerly International Festival for Strings & More), and Baldwin Wallace Conservatory Piano Summer Camp, and also was a staff accompanist at BW Conservatory. She has also served as a judge for National Federation of Music Clubs Jr. Festival Piano competition, Youngstown Music Teachers Association Piano competition, and Ohio Federation's Music Club's Jr. Festival Piano competition. Her students have won contests and scholarships; some students have been accepted to leading music schools; some has been frequently appearing local hospitals and retirement houses.

A native of Japan, she began studying piano at the age of three. She has studied with Graeme Humphrey at the Royal Academy of Music in London, United Kingdom, Dr. Thomas Hecht at the Cleveland Institute of Music where she holds both Bachelor of Music and Master of Music in piano performance. Other teachers include Robert McDonald, Jacques Rouvier, Ellen Mack, Noriko Iwabe and Michio Kobayashi. Her chamber music/collaborative piano mentors include Anne Epperson, Eric Charnofsky and Peter Salaff. In addition, she studied harpsichord with Janina Ceaser. Her CD is available under TC Recordings label.